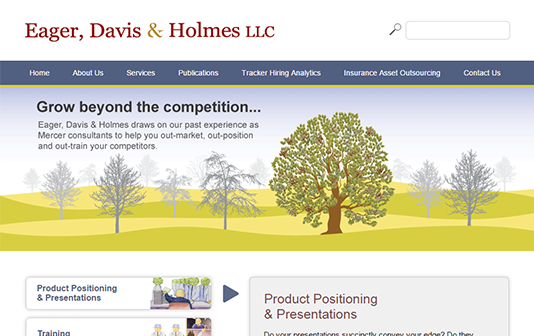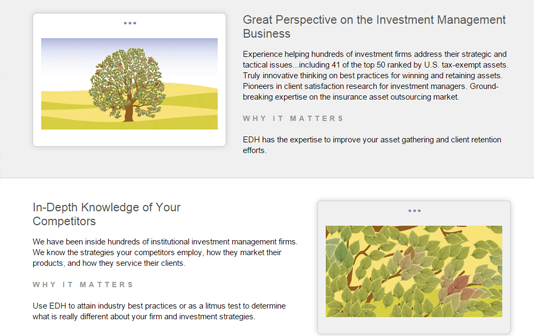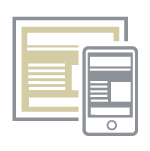 Websites
Eager, Davis & Holmes (EDH) recently approached Bull Marketing about re-designing a static legacy website. The objective of the project was to design a fresh and clean look that communicated brand value and trust, while bringing the back-end of the website in line with current web standards and Google best practices for optimal SEO results. In addition, EDH also requested that we develop a custom graphic for their landing page that encapsulated their brand message more intimately than a stock photo, which also complimented existing branded graphics that identify each service.

The result is a complete success. The new website is dynamic, which means all updates and maintenance are streamlined and less costly moving forward. The responsive technology allows the website to intelligently optimize layouts depending on whether the user is accessing the site via desktop, tablet or mobile phone. The website navigation and user interface was re-organized to improve user comprehension and create a more intuitive user experience that aides in improving click conversions. When we asked EDH how they would rate their experience with Bull Marketing, they said that their experience was "Excellent". Additionally, they were impressed with our ability to quickly respond to requests and felt more comfortable throughout the process because they got to work directly with key designers working on the website.

Presentation & Training Consultants for Investment Managers
EDH partners with institutional investment management firms offering insightful perspectives, in-depth competitor knowledge, expert market proxy advice and senior partner attention. Their services include Product Positioning & Presentations, Training, Insurance Market Guidance, and Client Satisfaction & Other Business Issues.