InDesign Customized to Export Multiple, Simultaneous Formats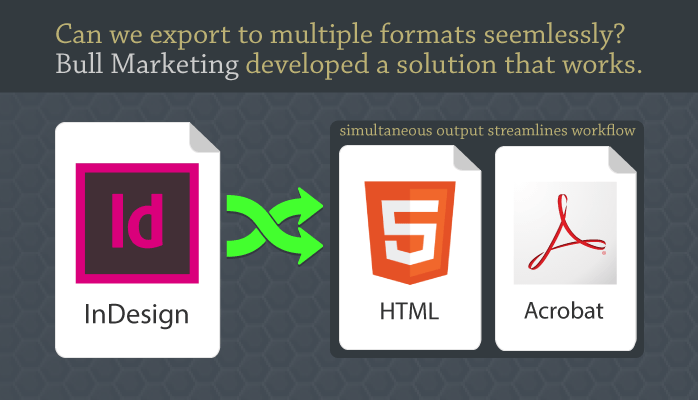 We regularly help one of our clients design White Papers, which we also proactively maintain on their behalf. The White Papers are designed using InDesign in conjunction with other Creative Cloud applications and when the layouts are complete, we export the format to PDF. Recently the requirements expanded. Moving forward, they need both a PDF formatted White Paper and an HTML formatted version to post on their company blog website.
Obviously one approach to tackling the design process would be to handle each format as a separate document, breaking it apart into steps. Step one would be to output the PDF directly out of the InDesign document, and step two would be to design a separate HTML page that matched the PDF layout. While this approach would work, it wasn't the most streamlined way to go about solving the issue, which would complicate an otherwise finely tuned maintenance plan. We needed to find a better way, so we rolled up our sleeves in search of a better way to solve the problem at hand.
Primary Objective
Architect a creative and streamlined way to produce an HTML formatted White Paper, which also matches a "similar but different" look and feel of a companion PDF White Paper Layout. Both formats needed to be accessed by our client's internal and external audiences through multiple delivery platforms, and it was our task to figure out how to make the conversion smoothly.
Implementation Strategy
We decided to take a look under the proverbial hood of InDesign and see if there was a way to automate the action we were looking to create with a custom script. JavaScript was a native option to InDesign so we had our research and development team start there. The thought was to design the White Paper once, while exporting to the different formats saving costly time spent on a second design that catered to HTML. After a short period of research, it became clear that this plan of attack would yield the best results.
Outcome
With very minimal post-export manipulation we are able to accomplish this task for our customer and still keep their maintenance strategy in place. We saw the potential to improve a process and save time, and we applied ourselves to the challenge until it was resolved. From our client's perspective, we accomplished their goal while streamlining our maintenance process internally, which allowed us to keep delivering the same level of cost-effective client support that we always include with our solutions. It was a "win- win" situation for everyone involved.